Digital Signature Certification
In today's Digital age ,Where Online Transactions and Communication have become an Integral part of our lives ,the need for secure and reliable authentication has become paramount. Digital Signature Certificates (DSCs) Play a crucial role in ensuring the authenticity ,integrity ,and non-repudiation of digital Documents and Transactions. In this article ,we will explore the concept of a digital signature certificate ,its significance ,and its Various applications in the Modern world.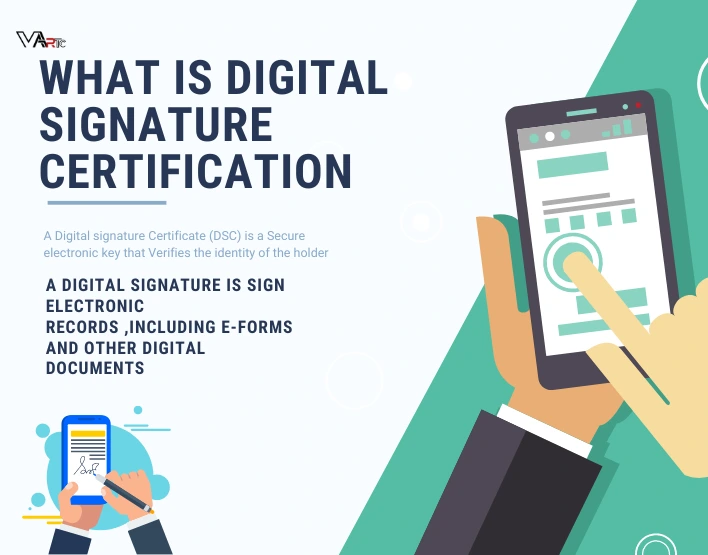 What is Digital Signature Certification
A digital signature serves as a means of authenticating an Electronic document by an individual or entity. This Authentication process is carried out electronically ,as defined in Section 3 of The Information Technology Act ,2000.
A Digital signature Certificate (DSC) is a Secure electronic key that Verifies the identity of the holder. These certificates are issued by a certifying authority (CA) and contain Identifying information such as an Email address and an APNIC account name.
Digital certificates leverage public key infrastructure to secure data that has been digitally signed or encrypted using a private key. Furthermore ,these certificates also serve as a means of authentication ,establishing your credentials when engaging in online business activities.
In accordance with the provisions stated in this section ,any Subscriber has the Authority to Authenticate any electronic Document by Affixing their Digital Signature onto it.
Similar to a handwritten signature used for Signing physical documents ,a Digital Signature is Employed to sign electronic records ,including e-forms and other digital documents.
The Information Technology Act of 2000 contains provisions concerning the Utilization of Digital Signatures on Electronically submitted documents. These Provisions aim to ensure the authenticity and Security of all digitally filed documents.
Therefore, all documents submitted by companies and LLPs falling under the MCA 21 e-governance project are required to be filed using digital signatures. The person authorized to do so must affix the digital signature on these documents.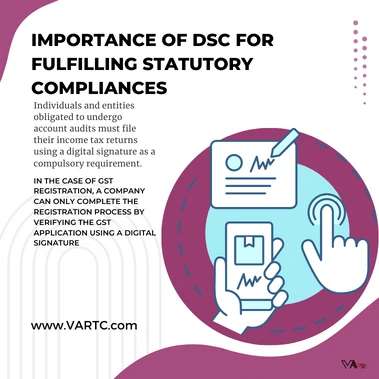 Importance of DSC for Fulfilling Statutory Compliances
Individuals and entities obligated to undergo account audits must file their income tax returns using a digital signature as a compulsory requirement. Additionally, the Ministry of Corporate Affairs has enforced the use of digital signatures exclusively for companies to submit reports, applications, and forms.
In the case of GST registration, a company can only complete the registration process by verifying the GST application using a digital signature. Similarly, the utilization of a digital signature is imperative for filing applications ,amendments ,and other associated forms in the context of GST.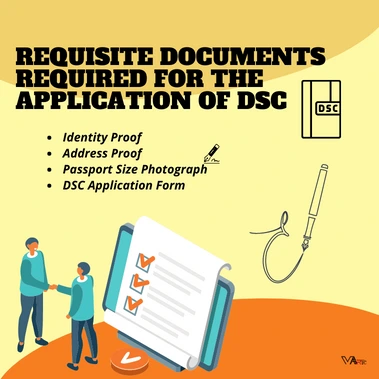 Requisite Documents Required For The Application Of DSC
To apply for a DSC, you would need to submit the following documents:
Identity Proof: Government-issued Identification documents include PAN card ,Aadhaar card ,Passport ,driver's license and other Similar forms of Identification.
Address Proof: Government-issued address proof includes documents such as Aadhaar card ,utility bills ,bank statements ,and other similar forms of proof of address.
Passport Size Photograph: A recent passport-sized photograph on a white background is required.
DSC Application Form: The DSC Application form can be Obtained by Downloading it from the Website of the Certifying Authority (CA) or by Visiting their Office.
Charges of DSC
The cost of acquiring a digital signature certificate varies depending on the entity issuing the DSC ,as their charges may differ.
Components of a Digital Signature
This is required as part of a verification system.
This is required for contact information purposes and for ease of identification.
Expiration Date of the Public Key
This part of the signature is used to set a shelf life and enable the signature to be reset.
This section identifies the company that owns the signature.
Serial Number of the Digital ID
This part is a unique number that is bundled to the signature for tracking ad extra identification reasons.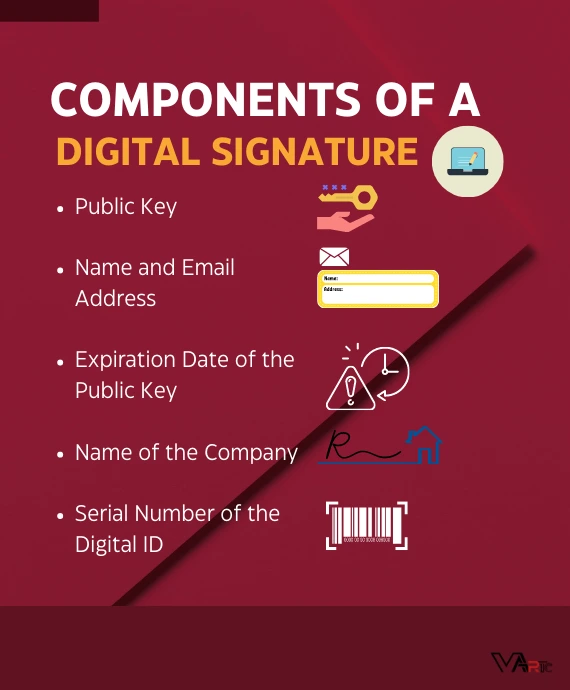 Digital Signature of the Certification Authority
The digital signature is issued by the certifying authority responsible for issuing certificates. Additionally, individuals authorized as signatories for manual documents are required to obtain a digital signature as per MCA21 regulations. This requirement applies to personnel such as directors, auditors, company secretaries, bank officials, and other authorized signatories.
Who Can Issue The Digital Signature Certificate?
To obtain a DSC ,individuals must Submit an application to the Certifying Authority in the prescribed form and manner determined by the Central Government.
The Office of the Controller of Certification Agencies (CCA) has appointed Certification Authorities under the provisions of the Information Technology Act, 2000. As a result ,the CCA has authorized eight Certification Agencies to issue DSCs to individuals who require them.
Process of Obtaining Digital Signature From Certifying Authority
As an Applicant for a Digital Signature Certificate (DSC) ,you are required to directly Submit a duly Signed and Completed Application to the Certifying Authorities (CAs).
In addition to the application, you must provide a self-attested copy of your PAN Card and an ID Proof containing a photograph and the applicant's address.
Validity of Digital Signatures
DSCs issued by Certified Authorities typically have a validity of one or two years. However, they can be renewed according to the prescribed form and fees set by the Central Government.
The Request for DSC renewal Should be Submitted at least 45 days prior to the Expiration of the Current validity period.
Certificate based on Processing
Traditional – Paper Based

Aadhar-based e-KYC paperless DSC

PAN-based e-KYC Verification based DSC

GST Verification Based paperless DSC
DGFT

SSL

Document Singer (pdf Signer)

eSign
Signing

Encryption

Combo (Signing + Encryption)
Subscriber based Certificate
Individuals

Organization

Foreign Individuals

Document Signer Certificate

IET Certificates

Foreign Organization
Frequently Asked Questions:
Q-What is the validity period of a Digital Signature Certificate ?
Ans-Currently, Digital Certificates are issued with a validity of 1 year (365 days) from the date of download. Moreover, we provide the option to obtain certificates with extended validity of 2 years and 3 years.
Q- How long does it take to issue a Digital Signature Certificate ?
A- At VARTC, we can issue DSC within an hour if required. Typically, we process and issue DSC within 1 working day upon receiving the application and payment.
Q- Can I use a Digital Signature Certificate in any machine or other location ?
A- You can use the DSC on any PC or laptop equipped with a USB port ,as long as the Appropriate e-token drivers are installed Correctly.
Q- Why do I need a Digital Signature Certificate (DSC)?
A- A Digital Signature Certificate (DSC) is an Electronic means of Verifying your identity. It Offers enhanced security for your online transactions by ensuring the utmost privacy of the exchanged information. With a DSC, you can sign and encrypt data ,guaranteeing that only the intended recipient can access it. By digitally signing information ,you provide assurance to the recipient that it has remained unaltered during transmission and verify yourself as the sender of the message.
Q: How does a Digital Signature Certificate (DSC) work?
A- A Digital Signature Certificate (DSC) explicitly associates the identity of an individual/device with a two keys - public and private keys. The certificate contains information about a user's identity (for example ,their name ,pincode ,country ,email address ,the date the certificate was issued and the name of the CA. These keys will not work in the absence of the other. They are used by browsers and servers to encrypt and decrypt information regarding the identity of the certificate user.The Private key is Stored on the user's Computer hard disk or on an external device such as a USB token. The user retains control of the private key ;it can only be used with the issued password. The public key is disseminated with the encrypted information. The authentication process fails if either one of these keys in not available or do not match. This means that the encrypted data cannot be decrypted and therefore ,is inaccessible to unauthorized parties.
Looking for a Digital Signature Certificate? VARTC is here to assist you with our expert services, tailored to meet your business needs. Contact VARTC today for all your DSC requirements.